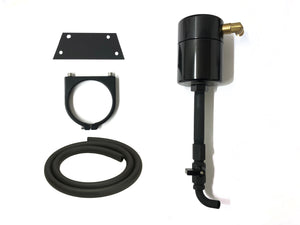 TSBSG
Oil Catch Can Kit - 2017+ - Can-Am Maverick X3 Turbo
Regular price
$179.95
$0.00
Unit price
per
An oil catch can is essential on a performance vehicle to protect the engine from elevated levels of crankcase blow-by accumulated from high performance driving. Excess oil saturated air circulating back into the air intake stream can lead to degraded performance. That's where the TSBSG Oil Catch Can Kit comes into play to mitigate and prevent these issues!

Features:
-Made of billet aluminum for strength and weight savings
-Baffled to ensure oil is accumulated into the catch can reservoir
-Effectively raises the octane and increased engine performance from cleaner inlet air
-Prevents oil buildup in the intake and intercooler system walls, throttle body, intake manifold, etc.
-Excessive oil collection can be an indicator of a damaged engine.
-Lowers hydrocarbon emissions
-Capacity: 6 fluid ounces for longer drain intervals
-Quick Drain Valve to make draining easier, quicker, and less messy

This kit is perfect for stock or modified X3's as a preventative measure to keep oil and sludge out of the intake tract, intercooler, and intake manifold.
---