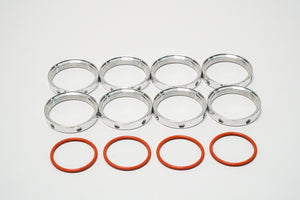 TSBSG
Silent Cross Over Rings for Fox Shocks - Shock Therapy - Can-Am
Regular price
$49.95
$0.00
Unit price
per
Our patented "Silent" Cross over rings are here! Now you can install these rings on your Fox equipped UTV and take full advantage of the potential in a dual rate spring system! Just because you have two springs on your shock does not make it "dual rate". Unless you have a cross over ring on the body of the shock, inside the coil spring, set properly to engage the lower spring during compression, you only have a "dual spring" system and a single, combined spring rate.
Our patented, "Silent" cross over rings are one piece and can be installed without taking your shocks apart! Simply remove the coil springs and thread these on. They are threaded and can be adjusted up or down to control when you want the heavier lower spring to come into play. In addition they use an o-ring that is impervious to UV rays, temperature and humidity which eliminates all "clicking" noise when the ring contacts the divider! Eliminate nose dive. Stop the front end from dipping down under corner braking. Increase your total bump stage for the biggest jump landings, G outs, wash outs and unexpected hits. Get back the ride quality your UTV was designed to have!
If you have purchased a "dual spring" kit from someone already and wish to make it a "dual rate" kit these cross over rings are the way to do it. Just remove the springs and bolt these on. Now you can adjust at what point in your suspension travel you want the lower spring to come into play making it that much stiffer in the big hits.
Currently we have "Silent" cross over rings designed for Fox 2″, 2.5" and 3" shocks.  Remember that ALL cross over rings are designed to be rubbed by the spring and will show wear. This is normal. Also, all cross over rings are sold on a PER SHOCK basis. Two rings per shock for Fox and two halves per shock for Walker Evans.
---